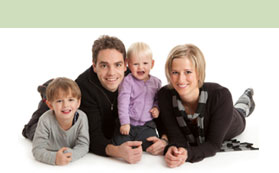 Santa Barbara Community Housing Corporation was created in 1975 as a nonprofit and since then has developed over 700 low or moderate-income housing units in our county. SBCHC has built a strong reputation for organizational stability and creativity, working with public and private housing partners and financing its projects through these various partnerships. In recent years, the agency has developed a number of projects for residents with mental illness and developmental disabilities who otherwise would be priced out of housing in our community.
SBCHC is a nonprofit corporation governed by a volunteer board of directors and the Executive Director supervises the day-to-day activities including a professional staff of sixteen. Under this administrative umbrella, each property has its own operating budget and in some cases its own corporate entity.

SBCHC administrates 12 affiliated nonprofit corporations that own each of it's housing projects. Presently, SBCHC manages 14 Multi-Family Properties totaling more than 300 units and approximately 500 residents. SBCHC operates 4 principal housing programs:

Rehabilitaion/Conversion — SBCHC is working to preserve the community's existing affordable housing stock by rehabilitating and converting multi-family apartment complexes to not-for-profit cooperative ownership.
New Construction Housing Production — SBCHC undertakes all phases of development work, including site searches, feasibility analysis, local approvals processing, financial packaging and construction management.
Property Management — SBCHC provides full-service property management services for housing projects that it has developed.
Program Services — SBCHC owns and operates the Faulding Hotel in downtown Santa Barbara which provides permanent, supportive housing. SBCHC also owns the Hotel de Riviera which provides transitional housing with supportive services for homeless individuals suffering from mental illness combined with alcohol and/or drug problems.